Curriculum
Master's Program in Nursing
The objective of the master's program is for its participants to acquire knowledge in breadth and depth and to cultivate research capabilities in the field of nursing science, along with the abilities needed for nursing practice that requires advanced expertise. Another goal is to contribute to the advancement of nursing science. The coursework requires extensive reading of documents in both nursing science and other academic fields, and involves making presentations and the pursuit of new meaning and possibilities in nursing. Exercises and practical training are carried out under instructor supervision to help develop specialized practical abilities and sensibilities, and to integrate theory and practice. Additionally, a master's thesis must be written upon a theme selected by the student as a culmination of the particular work he or she has pursued in the program.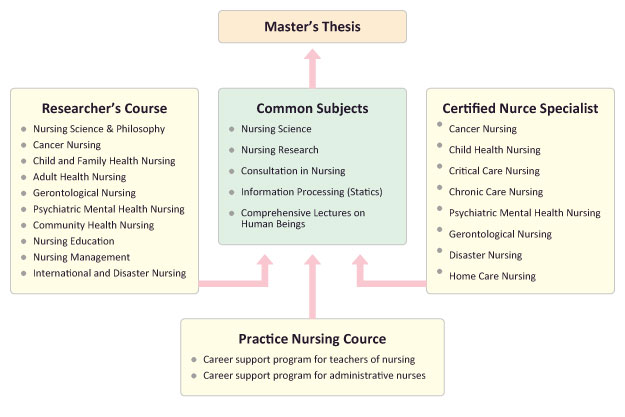 Master's Program in International Health Care and Midwifery
The Japanese Red Cross College of Nursing has positioned midwifery as an elective course of study since the college's founding in 1986, and has produced over 100 midwives to date. But recent social conditions have called for international practitioners with advanced skills and the ability to practice, teach, and manage in the field of health care, medical practice and social welfare.
The College has therefore launched a master's degree specializing in international health care and midwifery that will train graduates as international health care professionals. Participants in the program study the operations of the Red Cross under international humanitarian law. They learn and do research on the theory, practice, and application of midwifery for global implementation. The program cultivates an ability to take independent action based on scientific, theoretical judgments made from evidence related to phenomena occurring in midwifery, reproductive health and rights, and the support of women's health, with the goal of improving
Dissertation Course of Study
This course trains participants to become high-level international working professionals who can carry out midwifery effectively in society. They learn to take autonomous action from a position of leadership based on a research-oriented approach that takes global conditions into consideration.
Practical Course of Study
This course trains participants to work directly with people and provide midwifery care where it is needed. Graduates are immediately able to take Japan's national examination for certification as an obstetric nurse.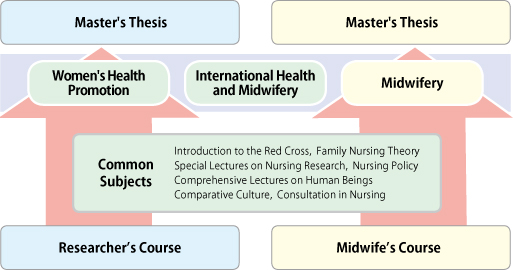 Doctoral Program
Our course aims to develop specialists with extensive knowledge of nursing science who have the ability to expand upon, judiciously apply, and communicate that knowledge. They will also be able to carry out independent research and development in nursing science. The goal is to obtain a doctorate in nursing science by passing the school's review of one's academic dissertation. 
These dissertations are often of great academic value, and are later published as an original article or book.

Cooperative Doctoral Program for Disaster Nursing(DNGL)
Path to global leadership in worldwide disaster nursing
The Disaster Nursing Global Leader Degree Program(DNGL) applied by University of Kochi, a representative institution, for the FY 2012 Leading Graduate School scheme of Ministry of Education, Culture, Sports, Science and Technology was accepted by the Ministry. This program intends to set up a five-year integrated doctoral studies program in 2014, for the first time in Japan, through cooperation by public and private institutes. The aim of the program is to meet the challenge of training disasters nurses who are capable of international activity and able to demonstrate global leadership. Our college is the only private institute cooperating with four prefectural or national universities: University of Kochi, University of Hyogo, Tokyo Medical and Dental University, and Chiba University.
Features
Long history and empirical knowledge of disaster relief and disaster nursing
Organizational cooperation to facilitate strong and effective action.
Opening of International and Disaster Nursing department in graduate school
Building network of connections with training institutions in Japan and overseas
Disaster Nursing Education Network in Asia
Since 2011 we have been working with the Disaster Nursing Education Project. Our efforts have been directed at helping to improve disaster nursing education in countries where disasters are likely to occur. Up to now, we have cooperated in Thailand, Indonesia, and Bangladesh to develop for each country a disaster nursing curriculum, syllabus, and textbook.
Teaching of disaster nursing in master's and doctoral programs
In the field of disaster nursing, we have been carrying out education and research connected with disaster nursing for recovery after events such as earthquakes, tsunami, and volcanic eruptions. In 2013, we launched a doctoral program and, in 2014, a course for disaster nursing specialists in a master's program.
Project to support people affected by the Great East Japan Earthquake
Since October 2012, in cooperation with the Japanese Red Cross Society, the Frontier Center for Nursing Practice, Education, and Research has been carrying out a project to support people affected by the Great East Japan Earthquake. This project is intended to support the health of evacuees. The Graduate School of the Japanese Red Cross College of Nursing is working on the project together with the Japanese Red Cross College of Nursing.
Musashino local disaster response COSMOS Network activities
Since 2005, with the participation of local citizens, the Frontier Center for Nursing Practice, Education, and Research has been holding ongoing seminars. The goal is to strengthen the resilience of each individual by providing learning of accessible wisdom in disaster prevention and required skills.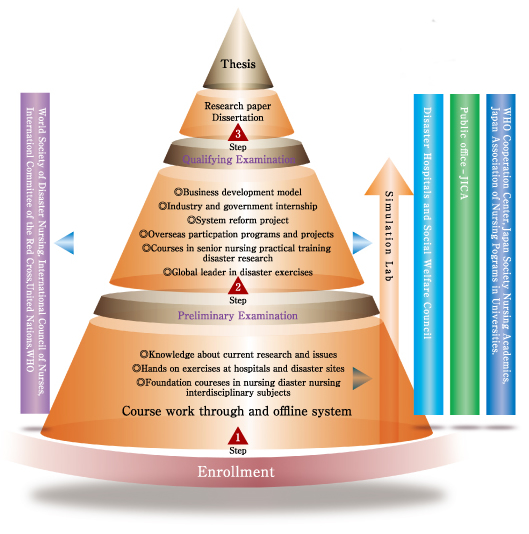 ◆Application Guideline
◆Application Form for Admission
 WORD  PDF
◆Ticket for Admission Examination/Photo Sheet
・Please submit an application form for admission, a ticket for admission examination, and a photo sheet by Email.
・Please have prior consultation with research advisor before applying for the admission.
(Please mail to:y-tamura@redcross.ac.jp )
・Regarding a way of submission of pictures, following either way are acceptable.
 1.By attaching on word files of an application form and a photo sheet
 2.By attaching on an Email as a JPG. Data